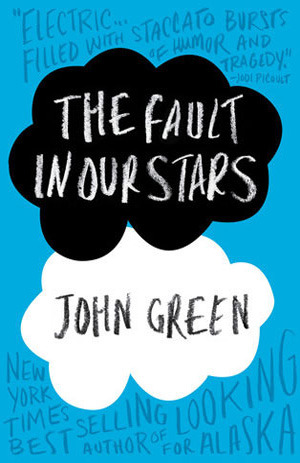 Title - The Fault in Our Stars
Author - John Green
Blurb
Despite the tumor-shrinking medical miracle that has bought her a few years, Hazel has never been anything but terminal, her final chapter inscribed upon diagnosis. But when a gorgeous plot twist named Augustus Waters suddenly appears at Cancer Kid Support Group, Hazel's story is about to be completely rewritten.
Review
I have always loved John Green, not his books, I have been warned off of those years ago but I loved him and Hank on their many forms of internet presence. Yesterday I decided to break my ban on John Green books and announced to everyone that I might need emotional support and delved into The Fault in Our Stars.
The verdict is - I hate John Green!
I hate his odd narrative that's too smart for a sixteen year old but still manages to have that sulky teenage touch. I hate the fact that one moment I am laughing and the next thing I know I am crying into my pillow. I hated the clever humor and characters that made me feel I was part of their lives.
I hate John Green but as I read, I fell in love the way you fall asleep: slowly, and then all at once (see what I did there!).
I have read better books, books with better characters or better narratives but I have never read a book that made me sit up and think about love, friendship, and mortality. At my age, it is very rare for me to think about death and the implication of knowing that you are going to die and for a brief moment in time, I really understood what it was like to look at your own mortality in the face at the very grand age of 16. It makes you value your own life through the look at those who might lose it at any moment. This is an amazing feat for a YA book.
This book is thoughtful, clever, heart wrenchingly painful and beautiful. Although it made me cry harder than that incident with Noughts and Crosses a few years ago, I still appreciate it's existence.
In light of everything, I give it 4 out of 5 stars.
p.s. I still hate you John Green.
Publisher: Penguin (3 Jan 2013)
Extra Detail: COMES WITH A SIDE OF EMOTIONAL PAIN