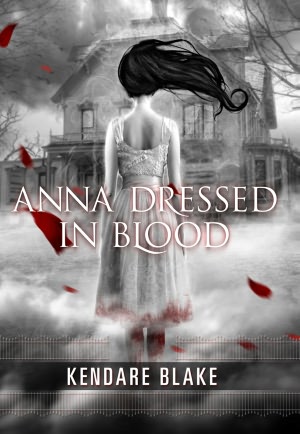 Title: Anna Dressed in Blood
Author: Kendare Blake
Blurb
Just your average boy-meets-girl, girl-kills-people story...

Cas Lowood has inherited an unusual vocation: He kills the dead.

So did his father before him, until his gruesome murder by a ghost he sought to kill. Now, armed with his father's mysterious and deadly athame, Cas travels the country with his kitchen-witch mother and their spirit-sniffing cat. Together they follow legends and local lore, trying to keep up with the murderous dead—keeping pesky things like the future and friends at bay.

When they arrive in a new town in search of a ghost the locals call Anna Dressed in Blood, Cas doesn't expect anything outside of the ordinary: move, hunt, kill. What he finds instead is a girl entangled in curses and rage, a ghost like he's never faced before. She still wears the dress she wore on the day of her brutal murder in 1958: once white, but now stained red and dripping blood. Since her death, Anna has killed any and every person who has dared to step into the deserted Victorian she used to call home.

And she, for whatever reason, spares his life.


Review
This book is… what kind I say about this book. Usually I avoid horror books because the entire story is based on how scary it can be and leaves all the little details like a good story line out. Add that to the fact that books just don't scare me and you have a not so scary book with a less than half a decent story line, totally not something I want to read.
This book however is different, while it still didn't scare me there we times I felt my face cringing at the level of gore and blood. Trust me if you are one of those people who loves girly instead of gore I suggest you stay away from the book, but if you love a bit of blood, guts and ghosts then this book is for you.
At the heart of it, this book is a love story but don't go expecting pottery making classes because this ghost is not some faded little man but one hell of a she devil. I absolutely love Anna because for once it's the man who is being constantly rescued and thrown about the room. When Anna battles Cas you know which one of them is going to win.
I am seriously blown away by this book, if I had to describe it is more The Exorcist meets Supernatural, the same scary ass girl but with only one brother and the same avenge my dad thing. If Cas in half as hot as Sam or Dean am all for it becoming a movie.
I really love this book. It has the goriness of some scary ass ghosts and still managed to create a seriously sweet and frankly hopeless love story.
I give this book 4 out 5 stars for one scar-ish sweet love story between a hunter and his prey or is it the huntress and the prey, that get so confusing sometimes.
Publisher: Tor Books (17 Oct 2011)
Author's Website: http://kendareblake.com/